Pro Demolition Removal Services in Riviera Beach, Florida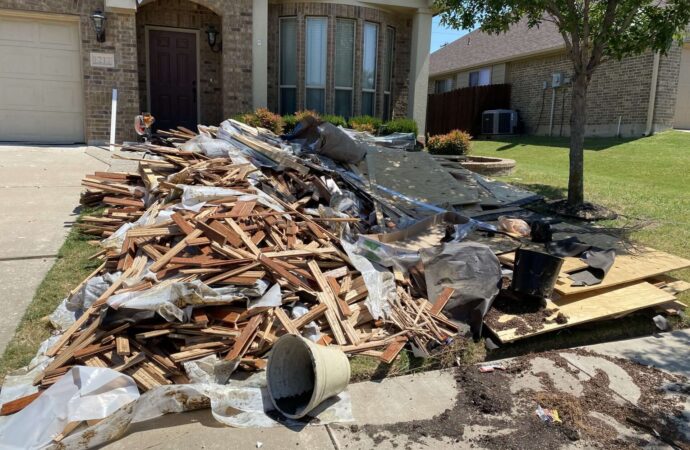 Dealing with demolition comes in many phases. The first one: dealing with the entire process of arranging the project and making sure the structure and parts are demolished properly. The second one: working around all the debris and junk left as a result. The third and final one: having to dispose of all the trash and waste. For the latter, you can be a contractor or owner going through this process, but you won't be able to deal with demolition removal easily unless you work with the proper equipment and know where to take your junk to. Our team at Riviera Beach Junk Removal and Trash Haulers can, however, handle it for you and ensure all the debris and waste goes to the right places.
Our team offers a safe, efficient, and environmentally-friendly service for disposing of demolition waste and making sure that the demolition taking place is controlled by several pickups and removals if necessary. 
The point of hiring us is to have a full team that will make sure that all debris from demolition is removed from your site so that you can continue with your project or close it when you are done and finally have everything cleaned.
How do we get there and take away all the demolition and debris? To schedule an appointment or get a quote, call us; this is the first step and the one you have to take for us.
Our insured and professional hauling crew will arrive on your site to assess the extent and debris of the demolition. We'll then create a plan and decide how we want to proceed, and from this, you will get a free estimate that comes with zero obligations.
We will reach out to you 20 minutes prior to our arrival to provide a free estimate. The amount of debris and work involved in demolition will determine the cost, and you can decide whether to hire us right away or not.
Don't think too much about this entire service. We simply collect the debris from demolition and haul it to our junk removal trucks. We don't charge any hidden fees, and you won't have to lift one finger because all the work is done by our team.
We Make the Removal Simple
Our goal at Riviera Beach Junk Removal and Trash Haulers is to make sure all your needs are covered, and for this, we handle the removal, lifting, cleaning, and more. Our company has a licensed and certified team to lift any non-toxic items that need to be lifted by one, two, or more people.
We have a variety of sizes and types of dumpsters that can be used for any job. Renting a dumpster can be a great option in many cases, but if you'd rather have us remove the debris, we offer our full support.
If you'd like us to take care of the entire removal, let us know. But if you wish to rent a dumpster for personal reasons and then have us pick it up, feel free to let our team know so we can work around this.
No matter the size or type, we will remove any kind of debris from your house, office, or small space as long as it's not hazardous.
We can safely and responsibly remove all debris from demolition, including rubble or shingles.
Here is a list of our services you can get at Riviera Beach Junk Removal and Trash Haulers:
---
Riviera Beach Junk Removal and Trash Haulers is the top company in Riviera Beach  that offers the best residential and commercial junk removal services. Here's our additional services:
---