Pro Property Clean Outs & Services in Riviera Beach, Florida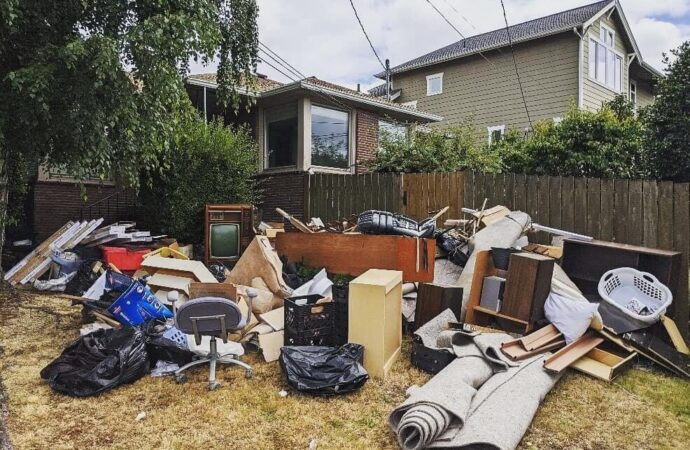 If someone tells you that cleaning out an entire property is easy, don't believe them. After all, cleaning a property out isn't about removing dust and the regular dirt, but rather disposing of old items, junk, debris, and anything that is part of what you would like to get rid of, even if this involves appliances, furniture, and more besides your regular rubbish. Property clean outs can be a daunting task for this very reason. And it is normal to need professionals who can lend a hand or two in the entire process. Our team at Riviera Beach Junk Removal and Trash Haulers can help you quickly and efficiently clean up your entire house or commercial property.
Our crew is skilled at providing top-quality property clean out services throughout the city and surrounding areas. We will come to your place and organize and sort everything. Then we'll dispose of any junk and dirt you don't consider necessary in your property and make sure the rest is sorted out properly in what needs to be disposed of and what doesn't.
If you have some questions about how this entire service works and if it is something you want for your property, this information may bring some light to your doubts:
Property clean out is all about how we complete the removal of all appliances, kitchenware, and furniture from a home or property to make it clean and clutter-free. We'll dispose of your junk and transport it to disposal areas or recycling centers. If they are in good shape, you can even donate them, but the point is to free you from everything that can be considered junk.

We can clean your property whether it is being used by someone moving in or for the purpose of selling the property, so rest assured we can be there to clean it out without issues, regardless of the reason behind it.
Many people are familiar with estate clean out services, but when it comes to property ones, it can be a bit confusing. It is important to think about the specific clean outs we offer here and not just the general service since everything has its specific goals and missions.
A home or relative's estate clean out involves removing all assets from the house in order to sell, liquidate or divide them among their beneficiaries.
We clean out your property: home, apartment, business, or any other. For this service, we just want you to have your property junk free and clean for whatever reason you may have.
We can remove junk from your homes, apartments, or commercial properties. This is for both individuals as well as businesses. We make sure that junk is recycled or transported to appropriate transition centers. We take all the responsibility and ensure that disposal is done correctly.
Our services can help you prepare your property for lease, finally, free your space from any junk, and make sure you get all the help for your junk, trash, and general rubbish.
We can quickly clean out any property, so make sure to contact us and access our team's support in this process.
Riviera Beach Junk Removal and Trash Haulers is a top company that wants to help you in every step, so don't shy away and allow us to give you all the support you need.
Here is a list of our services you can get at Riviera Beach Junk Removal and Trash Haulers:
---
Riviera Beach Junk Removal and Trash Haulers is the top company in Riviera Beach  that offers the best residential and commercial junk removal services. Here's our additional services:
---