Pro Fence Removals & Disposal Services in Riviera Beach, Florida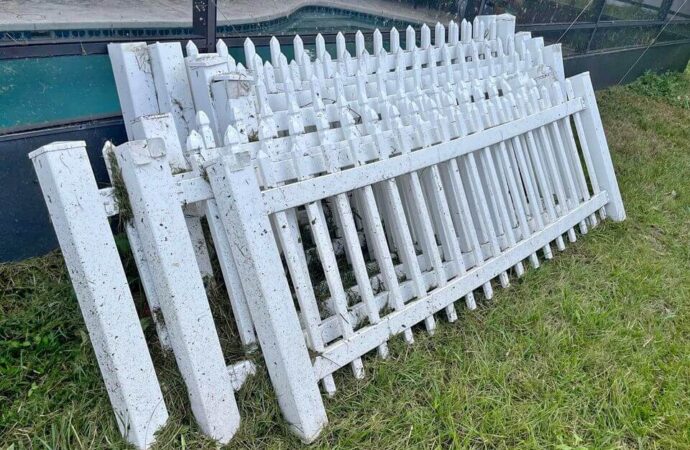 If you're unhappy with how your fence looks or maybe it is too damaged to keep it, you will need some good hands and professionals that can help you with fence removal so no one gets hurt. And you need to be rest assured every part is properly removed and disposed of. At Riviera Beach Junk Removal and Trash Haulers, we can provide you with all the help you need for fence removals and disposal. This includes helping you to remove any wood pieces or other debris and making sure you spend as little time as possible in this process since we not only help you remove each part. But also dispose of all the waste, debris, and junk left behind by the whole removal.
You may not only want to get rid of your fence for aesthetic reasons but also because it poses safety risks, which makes it ten times more important to dedicate time to this task. 
If your fence is not made from wood, it can cause problems and affect the value of your property. We can help you with this, so you don't have any hassle nor have to worry about who is capable enough of removing it without you having to pay a fortune.
In the entire state of Florida, unpredicted weather can cause fences to become damaged. This can cause serious problems in your yard and bring all kinds of inconveniences. A cedar fence that was originally meant to be private can quickly turn into a nuisance and cause more problems than it solves; for example, or maybe a regular wood fence is all shabby because of the storms.
Regular rain can cause wire fencing, once strong, to rust or get damaged. We are here to help, no matter what type of fence you have, so don't worry about it.
Why Your Fence Cannot Be Removed Easily
Many people believe that they are capable of removing fences on their own. Many fences have a cement foundation, which is what most people don't remember or know. Do you have the necessary equipment to remove them also? Or do you know where to start with this entire process?
To remove the concrete foundation, you will need to pull the pieces out of the ground. Next, think about where and how you'll dispose of the pieces.
There are many things that can impact the cost of fencing removal. They can make it more difficult to remove and clean up.
We are happy to give you a detailed estimate. We have the lowest fence removal prices in the region. We offer fair and affordable prices that include all the removals and cleanouts you require.
We provide fence cleaning services that include concrete and pole removal, as well as the disposal of all debris. You can remove the fence section but keep the posts. It all depends upon the condition of your fence posts.
It is important to ensure that your neighbor does not become ill from the fence you are removing. Before removing the fence, it is important that you consult your neighbors. We can also assist you if necessary.
Call us now to get a free estimate. It will be customized to meet your needs and exactly what you want, with no obligations included in terms of hiring our team.
Here is a list of our services you can get at Riviera Beach Junk Removal and Trash Haulers:
---
Riviera Beach Junk Removal and Trash Haulers is the top company in Riviera Beach  that offers the best residential and commercial junk removal services. Here's our additional services:
---